Updated: December 21, 2018
I, Jake Schonhoft, suffered a severe traumatic brain injury after falling down stairs on Halloween 2012 (well, date was October 27th, but we were celebrating Halloween); my last semester during my undergrad in the School of Mechanical Engineering at Purdue University, which left me in a medically-induced coma for roughly 6 weeks at St. Elizabeth East Hospital in Lafayette, Indiana.
Upon wakening from the coma in a hospital bed at Cincinnati Chidlren's Hospital Rehab Floor (my first memory at least – I was 22 years old at the time). I had lost about 70 pounds down to 120 and didn't have the strength nor balance to walk at first.
To test my cognitive abilities, I took an all-day neuropsychological evaluation in January 2013 and scored poorly: a 70 overall IQ, which is considered toddler-level. Common sense tells you: this was not easy for me to see, since I was blessed with a high IQ prior and school always came easy to me.
I did inpatient speech, occupational, and physicaly therapies. To give you an idea of my cognitive ability, I could only name 6/11 commonly pictured items (cat, dog, ocean, tree, bird, etc.) so it was obvious I needed to do speech therapy the most.
I began rebuilding my strength and balance in physical therapy on the ellyptical and BOSU ball at Cincinnati Children's rehab floor and rebuilding my fine motor and daily living skills (cooking, eating, ordering food, showering – I had to shower with a therapist to make sure I could live alone and not fall and hurt my head again). In speech therapy, I did a lot of memory, reading-comprehension and word-finding exercises and had major issues with them all. If I was ever to get my college degree (my main goal) I know I had to work hard in speech therapy.
Even after this test showing major issues, I thought I was totally fine, when I had MAJOR communication issues, I was in a wheelchair, couldn't do basic math ( a subject that WAS easy for me and one reason why I was studying engineering), socializing, and just being a member of society. I didn't even have the communication and word-finding abilities to call and order food from a restaurant. With all these major changes to my life, it didn't take a long before major depression set in.
I was released from Cincinnati Children's Hospital on December 27th, exactly 2 months after my traumatic brain injury, and continued outpatient speech, occupational and physical therapy at Margaret Mary Outpatient in Batesville, Indiana. I was quickly released from physical and occupational therapies, but I continued speech therapy well into the the summer of 2013.
I had lost all hope for my future, especially after failing a driving test in Spring 2013 and dropping out of Purdue University, with just 2 classes left to finish my degree in Mechanical Engineering – depression took over my life. I would lay at home in bed for days, many of which I wouldn't sleep at all because of severe insomnia. It was extremely difficult to have any will power at all to do anything with my life, like even bathe or brush my teeth.
As my brain continued to heal, and I started seeing signs of improvements in my memory and thinking abilities, I enrolled back at Purdue in August 2013 (looking back, I wasn't ready whatsoever). I still wasn't comfortable driving and socializing with peers, but I tried anyways. I also had major trouble understanding a word any of my professors were saying (I was taking one of my most difficult Mechancial Engineering classes: Machine Design II). Since I couldn't sleep, socialize, nor even do my school work, I late withdrew and moved back home with my mom in October 2013.
The depression and hopelessness got even worse once I moved back home. I couldn't even find the strength to get out of bed in the mornings, but I knew I couldn't give up; I owed it to my father, who I lost to cancer in 2006, and my family to keep pushing.
I enrolled in classes once again in January 2014 – I was feeling more comfortable driving, remembering words and socializing – I was hopeful to finish in May 2014 and had a dream to give a commencement speech there.
As the semester went on, I wasn't doing too great in school, mainly due to my new found passion of inspiring people: I began carrying a poster board around campus that read "Free Hugs & Inspiration" to inspire anyone battling hardships in their life – I LOVED hearing people tell me I inpire them and even made the cover of the Purdue newspaper. With my focus solely on giving back, I failed the semester once again, knowing Purdue only allows 3 attempts at a degree.
Once again, I enrolled back at Purdue in August 2014 knowing it was my last chance. I had noticed major improvements in my word-finding, memory, and overall communication abilities – I took another all-day neuropsychological evaluation in summer 2014 and scored a "Superior" overall IQ of 122 – this gave me immense confidence that I could do well that semester and graduate in December 2014, which happened!
I got my Bachelor of Science in Mechanical Engineering on December 21st, 2014 and got the best semester-GPA I'd ever gotten, but I still had a long way to go before I felt my life was back to how it was before my TBI.
I moved back home to southeast Indiana, the Greater Cincinnati Area, with having no idea what my furure would look like. I didnt have a job, even though I had already interviewed with numerous companies yet no job offer. I knew I had to make money so I began helping my neighnor with her horses while applying to HUNDREDS of engineering jobs throughout the US. I had accomplished my first goal of getting my engingering degree, but it semed like it was a waste of A LOT of time & money, since no one would hire me. It didn't take long before deep depression set back in…
I still wasn't getting restul nights sleep and didn't have many friends left around my small town to socialize with; most of my firends had successful jobs throughoiut the US. The evil depressioin inside me told me I should give up; I tried so hard to get a job and no one would hire me….until my big break in 2016.
I was offered a construction engineering job in Denver, CO where my brother and sister lived, and a place I had been to many times to snowboard in the Rockies. I was ecstatic that I would have a future after all, that was even in engineering: I invested so much of my time and money into my engineering degree so it felt great!
After making the move to Denver, I still had lingering depression that was clouding my mind. I had trouble focusing on my job and was fired just 3 months after being hired….WHAT WAS I GONNA DO?!!!!
I had barely any money and accumulated over $40,000 in student debt, so I had no clue how I would afford to live in expensive Denver; so I began applying for every job I could find and Uber driving. I eventually found a bartending job and did that for a few months, but I was still struggling financially and emotionally.
My older brother, JT, who had been working in sales for Apex Energy Solutions finally convinced me to give it a try as a sales partner there. I thought to myself: "If I don't want to move back home to Indiana, I HAD to give it a try…and try my hardest".
Sales was tough at first, especially since I was already on an emotional rollercoster due to my depression and commisioin-sales can be extremely volatile, just like my emotions at that time.
I worked my ass off at Apex and was quickly promoted to a senior-level sales partner. This promotion and increae in income gave my confidence that I could do anything and follow my true passion: inspiring and helping others in need at a hospital.
In November 2018, I began assisting patients with physical therapy at Craig Hospital – one of the top brain injury & spinal cord injury rehab hospitals in the nation that has top rehab technology and staff – and became a peer mentor to traumatic brain injury patients. I have only been doing this for a few months, but I CAN'T GET ENOUGH; it is extremely rewarding to me to give back and inspire patients to work hard; I was in their shoes just 6 years ago so I can understand how difficult life might seem for them.
I have a dream of one day seeing a patient of mine, who is as hopeless as I was 4-6 years ago, and giving them hope to keep-on-keeping-on! #NeverEVERGiveUp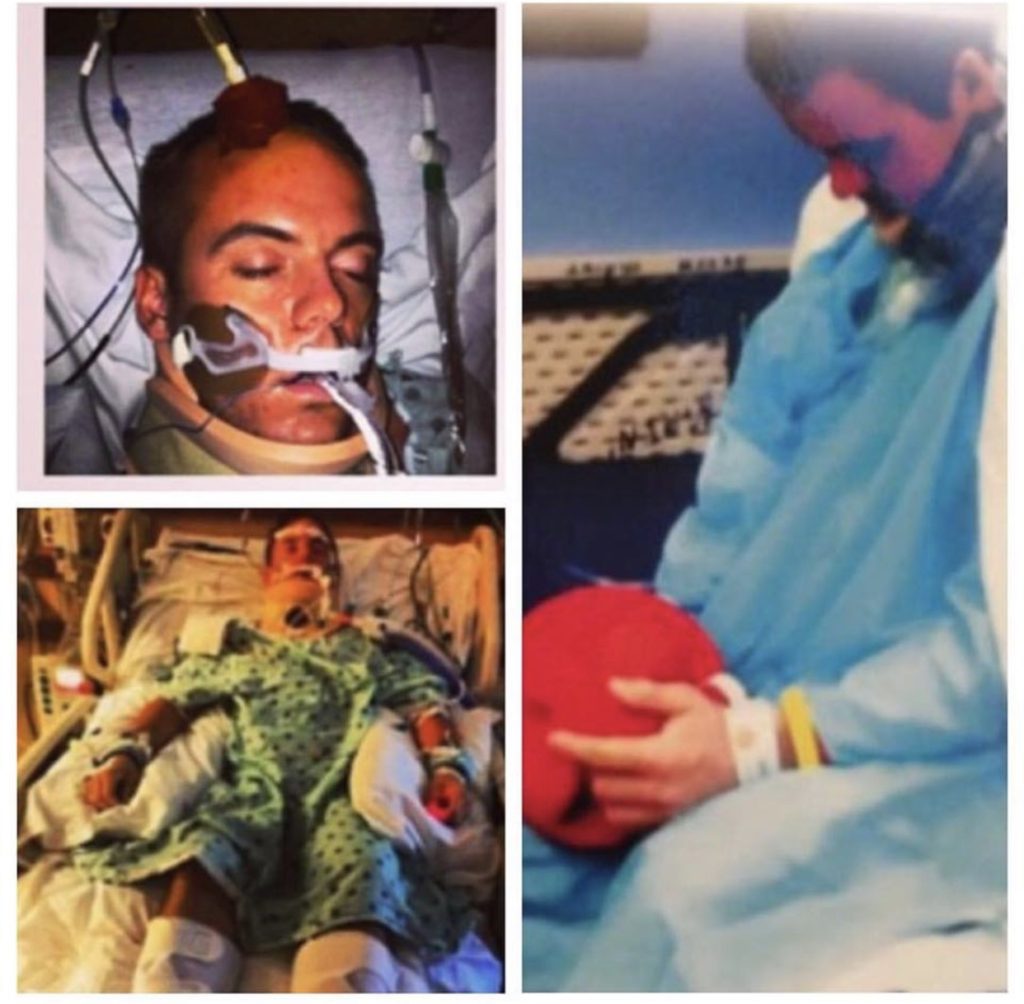 November 13, 2012
My younger brother, Jake Schonhoft fell down some concrete steps and injured his head. He is currently in an induced coma at St. Elizabeth East in Lafayette, Indiana. We are trying to get him the best care possible with hopes he has no brain damage. At this point we are thinking about transferring him to Methodist Hospital in Indianapolis. They are world-renowned for their work with brain trauma. As you could imagine, a helicopter ride from Lafayette to Indianapolis is not free and neither are any of his hospital bills.
As anyone who has known Jake for most of his life can attest to, this is not his first hospital trip. He has had so many things happen to him that we could write a book (after this incident we plan to). You also know he would do anything for anyone and has a heart of gold. Jake has all the ingredients to do big things in this world and I (we) shall do whatever it takes to support him.
We Schonhofts have been hit with more health issues than most humans deserve. It's one thing to lose a loved one (our father in 2006) and it's another to be hit with a fat bill.
I would love nothing more than to have Jake wake up in perfect health with zero hospital bills. Or at least less than he would have without our help.
Let's give Jake something great to wake up to!
(Please don't feel obligated to donate any money. The least you can do is send your thoughts and prayers his way)
-J.T. (Big brother), Amber (Big sister)