After a lot of persistence and desire to get better, I finally graduated from Purdue University with my Bachelor of Science Degree in Mechanical Engineering (with my best semester GPA ever, miraculously :)) on December 21st, 2014
I now live in Denver, CO, and I am a successful salesman, can still snowboard at the same high-level (of course I wear a helmet), and spend much of my time volunteering at Craig Hospital helping patients with therapy (who are just like me I was a few years ago). I am extremely grateful for all the support I had, the amazing medical staff who helped me along the way and to be able to give back – I enjoy it SO much!
I am now writing a book, have been invited to guest speak at Purdue University, University of Cincinnati, and University of Colorado Boulder (which I enjoyed sooo much and would LOVE to give more speeches) hoping to inspire others to NEVER EVER give up in anything in life. I never thought I would recover with ZERO residual issues but miracles can happen, just gotta BELIEVE and WORK HARD!
I have been in many other major accidents throughout my life leaving me in hospitals, and my persistence to get better always paid off. Persistence / willingness to try, in anything , will get you further in life than just about anything, even intelligence. KEEP ON KEEPING ON!
The pictures below were taken in Fall 2012  – I look nothing like that now :).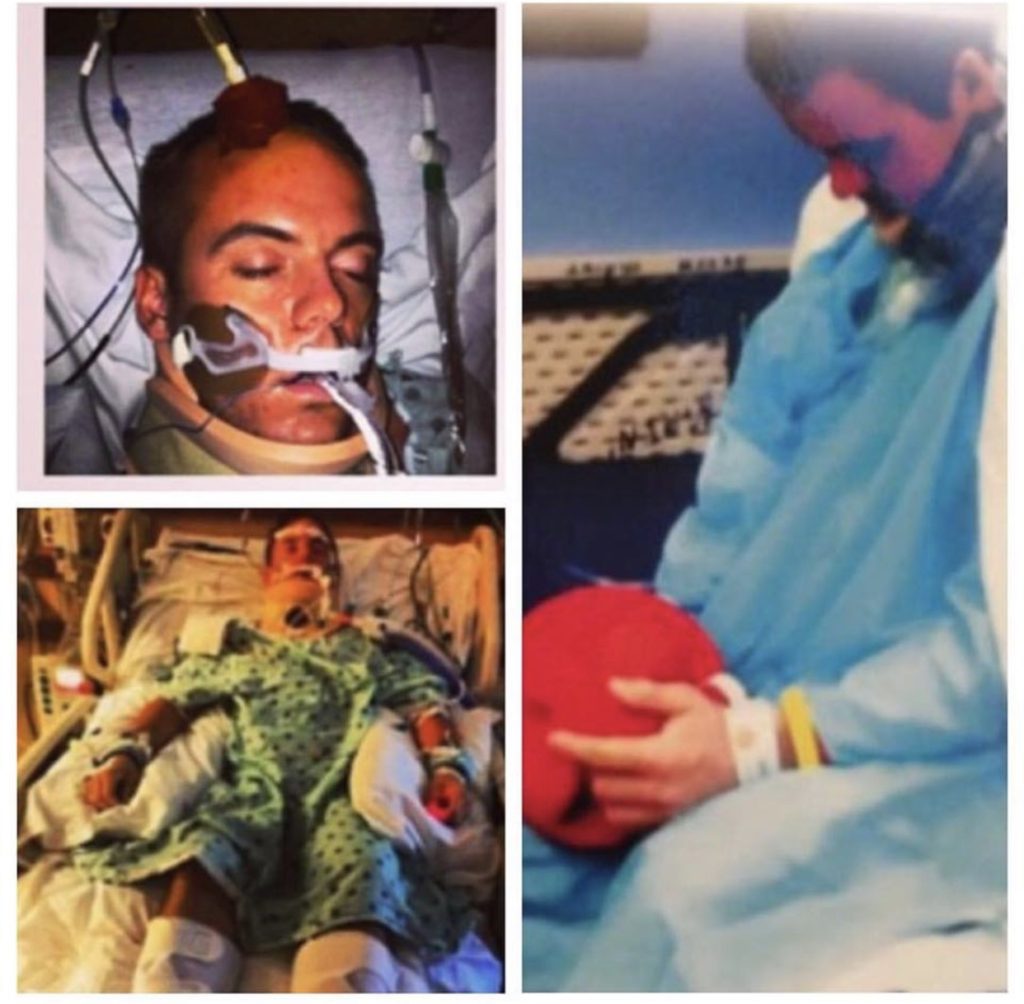 November 13, 2012
My younger brother, Jake Schonhoft fell down some concrete steps and injured his head. He is currently in an induced coma at St. Elizabeth East in Lafayette, Indiana. We are trying to get him the best care possible with hopes he has no brain damage. At this point we are thinking about transferring him to Methodist Hospital in Indianapolis. They are world-renowned for their work with brain trauma. As you could imagine, a helicopter ride from Lafayette to Indianapolis is not free and neither are any of his hospital bills.
As anyone who has known Jake for most of his life can attest to, this is not his first hospital trip. He has had so many things happen to him that we could write a book (after this incident we plan to). You also know he would do anything for anyone and has a heart of gold. Jake has all the ingredients to do big things in this world and I (we) shall do whatever it takes to support him.
We Schonhofts have been hit with more health issues than most humans deserve. It's one thing to lose a loved one (our father in 2006) and it's another to be hit with a fat bill.
I would love nothing more than to have Jake wake up in perfect health with zero hospital bills. Or at least less than he would have without our help.
Let's give Jake something great to wake up to!
(Please don't feel obligated to donate any money. The least you can do is send your thoughts and prayers his way)
-J.T. (Big brother), Amber (Big sister)